If you received the news that you're having more than one baby, be assured that this news doesn't mean that your dreams of breastfeeding will not become a reality! In fact, it's not only possible to breastfeed your twins (or more), but it's highly recommended and encouraged for both your and your babies' well-being.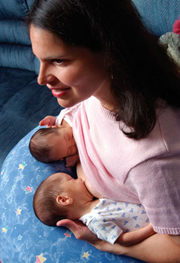 If you have children born singly and you were successful at breastfeeding, than nursing your twins will be a breeze for you. If this is your first pregnancy, do some research ahead of the babies' arrival. There are many comprehensive books on breastfeeding, and what holds true for nursing single babies, is the same for multiples. The only differing factor, of course, would be the need for a larger milk supply, and perhaps the need for developing your on system for feedings in order to incorporate all your babies into the "mix" of rotating breast/bottle should you have triplets or more.
Nourish Yourself: Remember what YOU eat is what YOUR BABIES will eat
Choosing what you eat and what you don't eat is so important, before pregnancy, during pregnancy and after pregnancy. You must be mindful of the foods you put in your body. There may have been a time when eating left over pepperoni pizza for breakfast, drinking diet cola or other high-caffeine sodas all day long, and greasy cheeseburgers for dinner worked for you (or so you thought) at one time, but now that you're a mom, EVERYTHING IS DIFFERENT. You're completely responsible for the health, wellness and future growth and development of your babies! I'm not saying that an occasional slice of cheese cake or a lean burger now and then isn't just fine, but NOW IS THE TIME that you learn the importance of proper, complete nutrition, because it's just about you anymore.
Eat plenty of fresh vegetables and fruits, dairy such as low fat milk, cheeses and yogurt, lean meats and fish, and lots of whole grains. Take a daily supplement such as your prenatal vitamin or another nutritional supplement source that can fill in any gaps while pregnant and after delivery when you begin to breastfeed your babies.
With all babies, especially premature babies old enough to be tube or syringe-fed, your milk has been formulated specifically for your baby(ies), and is referred to as "liquid gold". If you plan to breastfeed (which is a routine question you will be asked upon giving birth), a hospital lactation consultant will visit you and either instruct you on pumping your milk (for your preemies in the NICU), or have you immediately put your full-term babies to the breast, either one at a time, or together right from the start.
Breastfeeding for humans, as compared to cows in the pasture, requires some time for learning, exploring and getting to know the process. Very importantly, breastfeeding is the best way to begin bonding as mother and child. It is the beginning of a beautiful relationship.
With time, commitment, devotion and love, you will make a wonderful breastfeeding team. Though with multiples, breastfeeding schedules and positions may be factors, the following list of key ways to be successful, are the same  that you would follow with a single baby:
12 Keys to Follow for Successful Breastfeeding
1. Begin breastfeeding as soon as possible after birth, preferably within an hour. The first milk from a mother's breasts during the first few days following birth (colostrum) is rich in protein and other substances that help fight infection. If your baby(ies) are placed immediately in the NICU following birth, you will not be able to breastfeed them immediately, but you will be encouraged to begin to use a breast pump to express your milk soon afterward. Your bottled milk will be refrigerated or frozen until your baby is ready to receive your breast milk.
2. Try different positions when breastfeeding. Avoid leaning over the baby. Instead, sit back and bring the baby up to breast level. Use pillows for support (see below for double breastfeeding pillow support).
3. Have your baby suckle on as much of the areola as possible. Note: if it hurts, the latch in wrong. Your lactation consultant will show you how to encourage your baby's rooting reflexes to open wide, have you roll him up from him opened lower lip up over the areola. He will then latch and pull your nipple up to the roof of his mouth. When sucking begins you should feel a strong pulling, but pain indicates that you need to unlatch and start over. You may become sore at first, but with time, the soreness will subside. Lanolin ointment can soothe and protect, but the best thing to rub into sore nipples is your own, healing breast milk.

4. Alternate the breast your baby begins with each time to reduce some of the soreness you may feel, and in the case of double feeding, alternating will allow your breasts to each experience the demands and sucking styles of each baby, hence providing equal demands of milk production. In other words, allowing one baby to only nurse on the same breast can result in lopsidedness! Also, if an infection such as mastitis develops, the baby who normally would nurse the infected breast will need to readily accept the other while you temporarily pump-only from the infected breast until the infection is cleared up. Breastfeeding from an infected breast may be suggested anyway, but the milk may have an unfamiliar taste displeasing to babies.
5. Seek an evaluation of your breastfeeding technique by a trained professional during the first 24 to 48 hours after birth. You will receive a visit in your hospital room from a Certified Lactation Consultant who will be available to instruct you on breast pumping, showing you how to breastfeed your baby, and for tips and advice following your release. If you require more assistance, most L.C.s will come to your home (or you can go to her office with your baby) for further support.
6. Feed your baby whenever she shows signs of hunger. It is crucial that infants be fed on demand, especially in the first few weeks. Although a feeding schedule is routinely helpful with multiples, newborns will definitely let you know when they want to eat! You can expect to sit down and nurse your baby(ies) every 2-3-hours (give or take). As they get older and gain more weight, feedings usually will fall closer to every three hours.
7. Nurse until your baby is satisfied. The fat content of breast milk increases during the suckling session. Let your baby finish the first breast (about 10 to 15 minutes) before offering the second. When double feeding, allow each feeding to last approximately 20 minutes, with some burp breaks abut mid-point.
8. Burp your baby once or twice during and after each feeding.
9. Avoid pacifiers until breastfeeding has been well established.
10. If possible, breastfeed exclusively during the first six months. Breastfeeding is ideal for your baby's growth and development. Depending upon your plans, if going back to work is part of them, breastfeed exclusively while you can. You will be able to pump while away from your baby(ies), store the milk for the following day while you're away, and breastfeed whenever you're home. Some moms go on to breastfeed or pump for up to a year or more!
11. Do not give supplements to your baby (water, glucose water, formula, etc.) to your breastfed newborn unless a clear medical reason exists. You can make a request of your health care team, and to that of your babies, to refrain from those items by explaining that you wish to exclusively breastfeed. In normal cases where no medical issues are involved with you or your babies, the mother's wishes are respected.
12. Your diet plays a crucial role in the success of breastfeeding. A diet based on the four basic food groups is recommended, and it is vital that you DRINK LOTS of WATER. A good practice would be to make a habit of keeping a large glass of water next to you during your breast feedings, making sure you drain the glass so that within the next two hours, your next milk supply will be full.
Breastfeeding is the absolute healthiest feeding decision you can make for your baby. As much as it is food made by you tailored especially for your baby making it the perfect food, it is, equally importantly, a time of treasured, loving  bonding which makes it so much more than a method of receiving nutrition. To do this, however, will require your desire, devotion and commitment to seeing it through all the little bumps you'll probably need to overcome during the initial learning process for both you and your baby(ies).
The 3 P's of Tandem Breastfeeding your Twins
Feeding multiples can be a long process if you feed them separately, but with a little planning, preparation and practice, you'll be breastfeeding your twins together. This way they can be comforted, have their hunger satisfied, allow you to empty your full breasts, and be done so you have time to do other things instead of finishing long before you have to begin the process all over again!
My doubled-up breastfeedings became a smooth process once I came up with my system, called the 3 P's:
1-  Prepare. Plan out location or locations that you find are most comfortable to nurse. You'll need enough space to place each baby safely down where, once you are settled in place, you can reach for them one at a time (for example, your bed or sofa). I found that nursing in bed worked really well, especially while I was still learning, because I could lay each little one down safely close to where I would sit up against my bed's headboard. The bed provided all the room needed to comfortably settle down for a good feeding.
2- Pillows. It's all about the pillows for support and comfort for all three of you. First begin by placing two or three pillows behind your back so that your back, neck and shoulders will be supported and comfortable. Next, create two stacks of pillows (one or two on each side of the back pillows that look like chair armrests) which will be the foundation for each baby and your resting arms. Once you climb into position yourself, reach for each baby who'd already been lying close by, probably hunger-fussing and rooting at their little fists.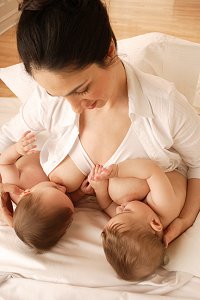 3- Positioning. Once you are seated comfortably, reach for a nursing pillow (a u-shapped boppy) and lay it across your lap and the two stacks of supporting pillows on each side of you. Reach over now and lift up the first baby, placing him upon the left of the boppy pillow with his feed facing the headboard of your bed. Hold him with your left arm while you reach with your right to lift the second baby. Position her the same way on the right top of the bobby. This position is called a double football hold, and is the most comfortable and efficient position, I believe. Offer your breast to each open mouth, then hold each baby supporting their heads with your hands. Your arms will lie along side their warm little bodies, and they'll feel your body as well, providing warmth, security, safety and nutrition at the same time. Doubling up also ensures that one baby doesn't go hungry while waiting for her turn. Once both babies are nursing, you'll enjoy the quiet (aside from the soft gulps and coos) and contentment that comes after the baby-crying fest that usually goes hand-in-hand with feeding preparation!
You'll get the hang of it in no time, and will be soon comfortable and confident enough to spread out to the couch or large comfy chair. My twins and I all breastfeed from between 15-18 months, and each were times I knew were finite, so I relished each moment and cherish the memories with such gratitude.
If I can help you answer any questions about breastfeeding twins, please comment on this post, and also, please remember to subscribe to my web site to receive information valuable to all families today!
For more information visit: www.parenthood.com and for all your breastfeeding questions, answers, and support locations in your area, please visit La Leche League International.