Congratulations on your Decision to Breast Feed your Twins!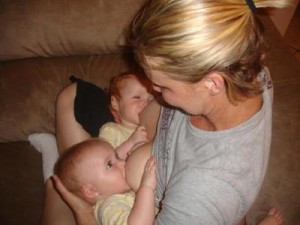 You've made a wise decision because there is no better, complete nutrition than your own breast milk, custom-created by
your
body, specifically and tailor-made just for
your
babies. Of course, there are reasons that exist that may cause you to choose formula-feeding over breastfeeding. There may be medical, health or medication factors; long-term, unplanned separation from your babies; or simply that you
prefer
to formula-feed.
It's completely your choice!
However, if your decision to formula-feed is based on a fear that you won't be able to successfully breastfeed two babies, or because you're concerned that you will not be able to develop and maintain enough of a milk supply to adequately nourish your babies for healthy growth and development, then please read on for some valuable, reassuring information and tips that may ensure your success!
On occasion, there are women whose bodies simply don't produce an adequate milk supply (even for one baby), regardless of consistent and varied efforts. The reasons for this condition are varied, but it is fairly rare for a woman to give birth and not be able to produce (and grow) a milk supply sufficient for her baby(ies). Sometimes, a baby may be unable to breastfeed due to, for example, prematurity; a birth defect of the mouth (such as a cleft palette); a lack of a strong suck reflex, etc., and no matter how much effort is made to encourage breastfeeding, baby simply must be fed via bottle or even tube-fed in order to ensure proper nutrition. If the inability to nurse is due to a baby-related issue, some moms choose to pump their breast milk and bottle feed for anywhere from a couple of weeks to over a year in order to ensure that their baby still is fed their milk. In most mother/baby situations, however, the vast majority of women will naturally begin to lactate (produce milk) as the next natural step in their child-bearing process, the baby will quickly learn the correct method for latching and feeding, and with enough guidance, support, and patience, combined with healthy doses of desire, commitment, and perseverance, they will together become very successful and happy breastfeeding couples (or, with twins: trios!).
If you desire to successfully breastfeed your twins, your success is more than possible … it's quite probable!
If, however, you've tried, met with challenges, and simply decided to bottle-feed with formula (or to pump and bottle feed with breast milk), know that all options are fine because you're successfully caring for your baby(ies) just the same.
When and Why the Lactation Process Begins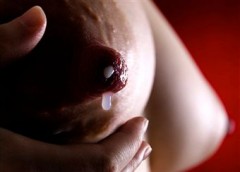 Lactation
(breast milk production) is caused and controlled by the hormones
prolactin
and
oxytocin
. Prolactin stimulates milk production and oxytocin controls the milk ejection reflex, also referred to as the "let down" from the mammary glands of the breast. Breastfeeding immediately after birth causes oxytocin to stimulate the uterus to contract down to its smaller, pre-pregnant size, and is believed to help reduce delivery blood loss. This process is extremely important and emphasizes how
breastfeeding is a necessary function for mothers.
Prolactin increases during pregnancy but the high levels of the hormones estrogen and progesterone prevent any milk production. After birth, the levels of estrogen and progesterone drop, allowing the prolactin to begin milk production. Prolactin also decreases after childbirth, but is released with each breastfeeding as the nipple stimulation signals the brain. In the brain, the hypothalamus triggers the pituitary gland to release more prolactin as the mother continues feeding. If a mother ceases to feed or never puts her baby to the breast for more than a few days, her prolactin will drop so low that she is unable to produce milk. Newborns have a strong, instinctive impulse to feed at the breast as well. The baby is born with a sucking and rooting (the act of searching for the breast with his mouth) reflex and the ability to smell his mother. The baby is drawn to the mother and her nipples by its strong sense of smell, and can distinguish his mother from any other mother. Keep this in mind, too:
Breastfeeding is a natural function but is not necessarily a natural instinct for mothers.
As opposed to the deer that give birth in the forest,
we humans need to be taught and encouraged.
Your first milk
Immediately after birth, and up until 24-36 hours, your breasts will secrete
colostrum
, also called
"first milk".
Because your babies have been fed continuously in utero, they will not be "hungry" in the way we perceive hunger. Because babies are born with an enormously strong need to suck (in fact, the jaw and mouth muscles are the strongest in the body at this time), she will immediately root for the breast as soon as he or she is placed in your arms. With the initial and consistent nipple stimulation, your colostrum will let down. Colostrum is yellow-orange in color, is thick in consistency, and is loaded with antibodies to fortify baby's immune system, protein, nutrients and calories (but low in fat so as easy to digest). Colostrum is created in small, concentrated amounts for the baby's first few days.
When your milk comes in …
By approximately the third day following birth, your milk will come in, and you may experience breast fullness and/or a level of engorgement. When milk begins to be produced, the mammary glands will fill and may cause some breast tissue swelling. Your breasts may become larger and swell. They may feel extra warm, heavy and hard. The best method for relieving breast engorgement
is to breastfeed
and allow the baby to drain each breast completely, as often as needed. If the swelling and hardness persist between feedings,
cold compresses
(such as ziplock bags of crushed ice or bags of small cut or cubed frozen vegetables) work well to wrap around the breast and reduce swelling. Following swelling reduction, some further breast pumping may be necessary. Prior to pumping or breastfeeding, apply
hot compresses
(as hot as you can tolerate) to encourage milk flow and complete drainage. Gel packs made especially for breastfeeding moms can be either stored in the freezer and also heated in the microwave (for about 30 seconds on HIGH). Hold the hot compresses over your breast as baby nurses, and the combination of heat and sucking will pull the milk out, and allow the swelling to subside. Engorgement may occur once or twice when your milk first comes in.
Building and Maintaining your Precious Milk Supply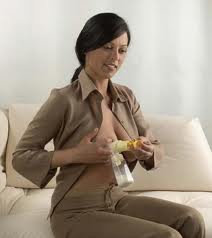 Always remember that when building up your milk supply, it's best to consider the simple law of supply and demand.
The more you breastfeed or pump
(and in the process completely drain each breast),
the more milk you will produce.
You and your baby will truly develop a mutually-benefiting, mutually-needing relationship. You'll need your baby to nurse as much as your baby will need to nurse!
It is very, very important to DRINK a LOT of water
(or other fluids such as tea, juice, etc.), a minimum of 10 oz, once per hour, around the clock … and the more, the better! Also, get as much rest as possible to conserve calories. Moms will often notice fuller breasts upon waking than if engaging in an activity between feedings. Too much physical activity (jogging, working out, etc.) while breastfeeding may adversely effect your milk supply.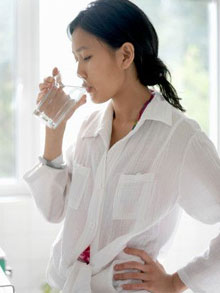 Also, taking
antihistamines
which can "dry up" your runny nose or sinuses, can also decrease your milk supply.
The most recommended amount of time span between feedings,
especially when you're just beginning,
is between 2-1/2 to 3 hours.
This amount of time starts from the beginning of one feeding to the beginning of the next, and continues around the clock. Eventually, as baby grows, gains strength and longer feeding endurance, a longer interval (for instance, a 4-5 hour interval once during the night) may become routine. Some moms prefer to nurse on demand and not watch the clock, while others prefer to establish a routine.
Nourish Yourself: Remember what YOU eat is what YOUR BABIES will eat
Choosing what you eat and what you don't eat is so important, before pregnancy, during pregnancy and after pregnancy. You must be mindful of the foods you put in your body. There may have been a time when eating left over pepperoni pizza for breakfast, drinking diet cola or other high-caffeine sodas all day long, and greasy cheeseburgers for dinner worked for you (or so you thought) at one time, but now that you're a mom, EVERYTHING IS DIFFERENT. You're completely responsible for the health, wellness and future growth and development of your babies! I'm not saying that an occasional slice of cheese cake or a lean burger now and then isn't just fine, but NOW IS THE TIME that you learn the importance of proper, complete nutrition, because it's just about you anymore.
A typical feeding
When a breastfeeding begins, the first let down brings watery, thirst-quenching milk so to satisfy babies initial thirst. He will nurse and pull this milk from each breast. With twins, tandem nursing will allow both babies to become fed together. After a few minutes, a thicker milk will be let down. The "let down" reflex may or
may not
be felt. If felt, the sensation is described as a tightness which begins on the upper parts of each breast, and when the tightness releases, a tingling sensation flows down the breasts to the nipples and milk begins to flow. The last let down during a breastfeeding, which may last approximately 15 minutes per breast, or 20-30 minutes tandem feeding two babies, contains the rich, creamy
hind milk
, loaded with calories, protein and nutrients … which causes the baby to feel satisfied. Although every three hours is the most common feeding schedule, some moms prefer closer feeding intervals depending on cues from her baby, but generally,
nursing too often can lead to insufficient rich, hind milk production.
Always make sure to interrupt each feeding with a burp break.
Burping will allow any swallowed air to come up, allow more milk into the tummy, and is also an effective break when baby becomes sleepy at the breast before finishing a complete feeding.
"But my baby still seems hungry!"
Some moms worry that following feedings their babies are "still hungry".
Nothing can cause more anxiety for a breastfeeding mother than if she believes that she's not producing enough food for her baby(ies). It causes feelings of failure, inadequacy, doubt, frustration and fear that she is starving her child.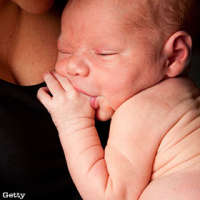 Please know this:
babies who seem to "act hungry" may also be simply exhibiting symptoms of gas, fullness, sleepiness, or any other discomfort.
Remember, also, that newborns will
always express through their mouth
… appearing to exhibit hunger. A mother's first reaction is to doubt herself, and because there is no visual gauge by which to measure how much milk her baby has received (i.e., seeing the formula amount decrease in the bottle), she begins to worry that she is not producing enough milk to adequately feed her baby(ies). Her next reaction is to find an alternate feeding source: a bottle of infant formula.
The best way to know if your baby is getting enough milk is to check for 5-6 wet (weighty-wet) diapers per day, with one or two dirty diapers.
If you are still concerned or convinced that your baby is not receiving enough breast milk, the following are the practices and resources that have been proven effective:
1) Contact an IBCLC
(an
Internationally Board Certified Lactation Consultant
) in your local area. She may come to your home, or you may be required to bring your baby to her office. She will evaluate your baby's overall health, and look for any signs of malnourishment or dehydration. She will assess your breastfeeding methods, and weigh the baby both before and after your feeding to gauge weight increase. She also will provide you with moral support (very valuable), and encouragement to continue … to
not give up
!
2)
In addition to
drinking as much water as possible, take two natural herbs called
Fenugreek
and
Blessed Thistle
(found in capsule or tea forms at local health food stores), taken in substantial doses (3 capsules of each before meals, 3 times per day) for approximately 3 days. Many mothers (including me) have had very positive results, experiencing a substantial increase in milk production.
3) While pumping when you're away from your baby(ies):
Look at pictures of your baby, and breathe in the baby aroma by smelling their jammies or little hats … these sensory cues and connections allow your milk to let down.
4)
Other moms have lots of great advice as to what they specifically found effective.
A nation-wide Facebook group of twin moms, while helping to support a brand new mom of twins named Bee who was struggling to keep up her milk supply, gave the following expert advice (and what better expert than a successful breastfeeding mother of twins):
Lynnette:
"…
the more liquid intake the more milk you will produce. Keep pumping after each feeding even if a little comes out. You want to drain the breast every time. Sometimes though some people just don't produce enough."
Tara:
"Mine are 12 weeks, and I have to say it took me until they were 8 weeks for my supply to be enough. I had to supplement with 4-8 ounces at night for my own sanity. I think what did the trick is, I drink a ton of water, eat about a cup of oatmeal a day, pumped often and started to increase my protein intake through protein bars."
Ariane: "There is a tea called Momma's milk and there are also cookies out there that supposedly help produce. But I'd start with just pumping to stimulate them when babies aren't on, even if nothing is produced, you're encouraging milk production."
Hillary: "Pumping is hard work, especially if you aren't seeing results! But hang in there … it works!"
Brandi: "The lactation consultant told me the same thing everyone here is saying: pump after nursing even if you're not getting much from it, you're stimulating more production. Also she recommended the herbal supplements, I think they were called 'More Mothers Milk' or something like that. I am sooooo glad that I stuck it out … nursing is now easy and my babies are flourishing! I guess my best advice is don't give up and try not to stress it too much, it will come in time. Also, I supplemented, just a little, with formula. Just like one bottle at bed time so that I know that they are going to bed full."
Stefani:
"Fenugreek worked wonders for me. Also eat lots of oatmeal, drink lots of water, and LOTS of nursing and pumping"
Karen:
"Fenugreek and Mother's milk tea at the health food store. LOTS of water. Oh, and when you thought you'd had enough water, have some more."
Anna: "If your babies seems hungry – just put them back on. Stimulation is important to establishing demand. Hang in there – it's tough and time consuming in the beginning but it will pay off!"
Meghan: "Hops! Odoul's non-alcoholic beer is fairly hops-rich but the darker the better. If I had one dark "hoppy" beer after I fed them, and put them down for the night, I felt my milk increasing."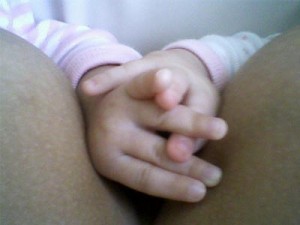 My advice, as a mom who has breast fed three sets of twins (six completely different children), and who experienced the most enjoyable along with the most challenging aspects of breastfeeding: it's not easy in the beginning and you may hit hurdles along the way, but with enough desire, strong commitment, support and perseverance, you will succeed at providing the most loving, giving, bonding method of nourishing your baby.
This gift that you give yourself and your baby will last a lifetime!