Everyone experiences the natural spectrum of emotions throughout their life, it's just human nature. However, when overwhelming life events directly impact the body's normal state of well-being, we sometimes lose our abilities to cope as we think we should. Such circumstances may include a death in the family, a long-distance move, or a divorce. But few events directly impacts a woman's physical, mental and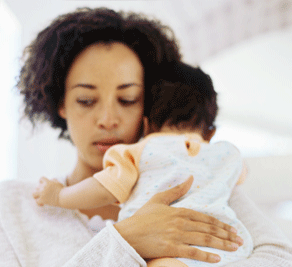 emotional state of being as much as the birth of a child. The sudden changes in hormonal levels as the result of giving birth can result in a feeling of sadness or "baby blues". When these feelings don't lessen after a few weeks, or become worse, a woman may be suffering from postpartum depression.
National Vital Statistics report that approximately 10 to 15% of women suffer from postpartum mood disorders (PPMDs), including postpartum depression (PPD), postpartum anxiety/OCD and postpartum psychosis. In 2007, the statistics report indicates that the total number of clinically recognized pregnancies is around 6.4 million. 15% of that would mean that each year approximately 950,000 women are suffering postpartum depression.
Postpartum depression can occur anytime between one to two days following delivery, up to and beyond a year.
From a personal perspective, I did not suffer from PPD following either of my first two pregnancies. But, I fell into a deep dark place two weeks following the births of my third set of twins. Knowing that this was not normal for me, and also knowing that I wasn't able to "talk myself out of it", I asked my OB/GYN for a consultation, and after talking for some time, she prescribed a medication for me that was safe to take while breastfeeding. After a couple of weeks, I began to feel better, more like myself again. It felt as though sunshine was finally breaking through dark heavy clouds that had been looming overhead, raining heavily down on me for weeks, totally exhausting me. Finally, I could pick up the babies without feeling as though they were a threat to me, no longer foreign little bodies posing as the sources of my confusion and grief. If you've ever experienced postpartum depression, you can understand what I mean. I could cope with the struggles, challenges and fatigue without crying all the time, and felt the deep, protective love for my babies that was supposed to fill my entire being instead of chronic sadness. I wasn't completely symptom-free for a few months, but I knew this wouldn't last forever. I was blessed to have my husband's understanding, patience and support during my darkest times … and I prayed … a LOT.
Many postpartum depression sufferers just want to know WHEN it will end. Blogger and former PPD sufferer Katherine Stone educates on all areas of postpartum depression on her site: Postpartum Progress. One of her articles lists the six factors that can affect how quickly a woman can recover from PPD. She lists: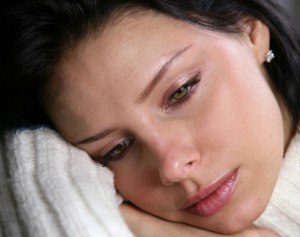 1. How long did you suffer from PPD before you reached out for treatment? If you've not sought treatment or help for a substantial amount of time, you may be looking at a longer recovery time. Nipping a problem in the bud, as they say, before it grows out of control can be key in reducing the time it takes to come out of the PPD fog.

2. How severe is your illness?
3. How effective is the treatment you have been using?
4. How effective is the doctor or therapist you're working with? If your symptoms are quite severe, it may take more time, treatment and therapy (and their effectiveness) before symptoms begin to subside.

5. What is your current life situation and how may it be affecting your recovery? It will be much harder to go through this condition without some support. If you're a single parent, for instance, you'll have a harder time than if you have the support of your husband or other close family member(s). Whether you are returning to work or are a stay-at-home mother will also play a huge factor in your recovery time.

6. What have you been doing to follow your treatment plan and take care of yourself? The more sleep and the better nutrition you receive, the better, as both allow the body to recuperate and better cope with difficulties and challenges.
There are several physical support groups available, as well as online support blogs to turn to for assurance and understanding. The most important thing to remember is that you are not alone. PPD is a very commonly occurring condition that is well-recognized and well-supported. Don't suffer alone, and know that you will get through this … the sun WILL come out again.
Fulfilling your nutritional needs will also help balance your hormones and provide you with an overall feeling of wellness. Please remember to eat a balanced diet full of lean meats, fresh fruits and vegetables, whole grains, fresh dairy and take a daily supplement to fill in any nutritional gaps that may exist.
* * *
For more information, please visit Katherine Stone's blog at: Postpartum Progress … together, stronger, where you will find a wealth of information and resources.
Also, please visit Mayo Clinic for medical information and treatment options for Postpartum Depression.