Whether you developed a complication early, midway or later in your pregnancy, being placed on 100% pregnancy bed rest by your physician can sound kinda nice to begin with, but believe me (and I'm preaching from lots of experience) … it gets pretty old pretty quickly! But this prescription, if you will, has a very important indication: to keep pressure off the cervix so it does not shorten (or continue to shorten) or dilate, as well as to keep your uterus quiet and contraction-free.
So, once you accept the fact that this is your life for the next few weeks or even months, the best way to survive this situation with all its aches, pains and other challenges, is ATTITUDE. My best advice would be to approach each day as a new gift, another day that you're still pregnant, and that the baby(ies) are still safely inside where they should be. With this thankful attitude, it's much easier to face each day.
Here are some ways that I found to make the best of bed rest:
1- Switch it up. If your bedroom and a living room/family room are on the same floor of your home, then alternate your scenery by setting up camp on a sofa, and keep the bed for sleeping. You'll appreciate not having to look at the same four walls day after day. I would not recommend however, traveling up and down stairs, so stay on one level.
2- Creature comforts. Surround yourself with your favorite things: favorite pillows, family pictures and other items that comfort you, especially if you're placed on hospital bed rest.
3- Catch up with friends. Have friends come over and bring lunch! Just because you're activities are limited, doesn't mean that everyone else's are. Chatting and visiting on the phone is another great way to relax and enjoy the company of others. With facebook, mommy blogs and forum discussion access today, you can stay connected with (and not feel so isolated from) the world so much easier than even a few years ago!
4- READ! If you enjoy reading like I do, here's your chance to do all the reading you want! If you're not a big reader, now would be a good time to rethink that! 🙂
5- Fun with light activities. Movies, board games with friends and family, crochet (I know that sounds so cliché), cross-stitch, and some light craft work while you stay on your side gives you a chance to do something productive.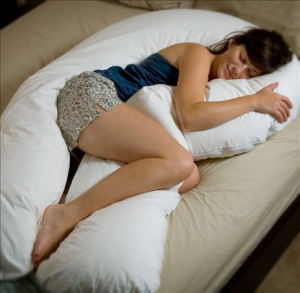 6- Discomfort solutions. I highly advise that your bed or couch be equipped with some memory foam, and (at the least), the egg crate foam for better comfort on those painful pressure points, such as the hips, shoulders and buttocks. I also recommend a body pillow (or two). These are great for relieving pelvic stress by keeping your top leg resting on the pillow. It also serves as a great book rest! Luckily, when bed pressure pain becomes uncomfortable, your doctor will allow you to take acetomeniphen (Tylenol) which can greatly take the edges off. Stuffy nose and congestion can often be an issue, especially with your lack of circulation, your head not being as elevated as usual, and your increased blood volume expanding your nasal blood vessels. The adhesive strips that you place on the bridge of your nose (Breathe-Right nasal strips) worked wonders for me! Constipation (which occurs naturally with pregnancy) is exacerbated by your lack of activity because activity encourages an efficient metabolism. On top of that, let's add the constipation-causing IRON supplements that your doctor may subscribe if you're anemic or have low iron. Solution: eat lots of fiber, along with all your other nutritious foods, cut back on cheeses and other known-constipating foods, and stay hydrated.
7- DRINK! (lots of water, that is). As I stressed in the article on preterm labor, DRINK, DRINK and then DRINK some more. Bathroom trips are allowed and very welcomed. The little bit of walking does wonders for your comfort and also helps to avoid developing blood clots due to lack of circulation. Frequent urination also helps to keep the uterus quiet and less irritable. Uterine contractions often accompany a bladder in spasm. Don't hold your bladder at all because a bladder infection could result, and this type of infection often leads to preterm labor.
8- Eat several light meals a day. Yes, your nutrition is vital to a healthy you, a healthy pregnancy and healthy babies. Bed rest, however, is not the time to eat large, heavy meals. You'll be asking for heartburn, indigestion and increased constipation problems. Eat 6-7 light meals a day and be sure to include a variety of fresh fruits, vegetables, lean meats and fish, fresh dairy and lots of whole grain. Remember to take your multi-vitamin (either in pill or powder/shake form) in order to fill in the gaps in your body's nutritional needs.
9- Older children. Having older children can be both a blessing and a difficulty. If they are very young and need constant care, you may need to recruit some live-in help, such as your mom, an aunt, or a very generous friend. If this isn't possible, you could (as I did for a few weeks) hire a mommy's helper to assist you with simple tasks under your watchful direction until your husband returns home from work. If your children are school-aged, helping with homework is still very doable. They just have to bring their books and materials to you so you all can work at a coffee table. Remember that your older kids want to help you, so let them refill your water bottle, bring you snacks or pillows, or put in a new DVD! At one point I called my couch my "Central Command Post" from which I could delegate chores, plan activities, plan meal menus a week at a time, create grocery shopping lists for my husband or other aide, and encourage the older kids to help with their younger siblings. I also could see and hear what was going on with everyone, too.
Bottom line: bed rest is manageable. In spite of all its challenges and the many times you just want to get up and go to the mall, you can always rest assured that you are doing everything possible to keep your baby(ies) from being born too early. Being continually grateful for all the help and care you receive, and meals friends and neighbors bring, will keep you centered and humble. You'll simply have to give up some control and know that this will end. And when all is said and done, isn't that worth this temporary condition?
For other tips on coping with prolonged bed rest, visit: Inhabitots.com.
My personal pregnancy bed rest experience …
… I began bed rest at 18 weeks with my first set which lasted until they were born at nearly 31 weeks. I began bed rest with my second set at approximately 20 weeks which lasted a grueling 15 weeks! My third set pregnancy bed rest began around 20 weeks as well, and lasted until I reached nearly 31 weeks, when my sons just couldn't wait any longer to see the world! And we all made it through it all with lots of support, love, prayer and care!