Raising and living with three sets of twins, in all twin combinations, there is bound to be head-butting and creative ways that each child asserts to "get his or her way" around our home.
When my oldest twins were between 9-12 months of age, during their crawling phase, we noticed how our older daughter Kathryn (first-born in every sense of the word, although her birth beat her sister Lauren by only a minute and a half) had begun to subscribe to the notion that "what's mine is mine, and what's yours is mine". For weeks, I'd observe as Kathryn would notice a toy that Lauren was happily examining or playing with, and then crawl over to her and snatch it from her little hands. Lauren would then begin to cry from anger and frustration at the injustice of it! As this went on, Lauren began to learn the drill, and I realized one day that Lauren had a plan and decided to initiate it. She decided to openly display herself enjoying a set of stacking cups so that Kathryn would become interested. As soon as Kathryn crawled over, eagerly snatched the set of colorful cups, and began to sit down satisfied that she'd won yet again, I observed as Lauren crawled over to some board books that she loved dearly. After checking to see that Kathryn was occupied, if only for a minute or so, Lauren was content and began to open the cover of the first book … the object she'd wanted to enjoy all along.
Lauren and Kathryn are now 16 years old. To say they've had their share of rivalry over the years would be a true understatement! Several years ago, each graduated to her own bedroom, which cut down on the arguing dramatically, but not completely. Recently, Lauren's light bulb burnt out in the bedside lamp she uses most to study and do her homework by. We were totally out of light bulbs in the house, so she decided to go into Kathryn's room and steal her lamp's light bulb. When Kathryn discovered that not only did her lamp not work, but that the bulb had been stolen, she was furious, and knew immediately who was probably the culprit! Needless to say, the light bulb went back and forth for a few days until the poor thing bit the dust! Fortunately, I'd replenished our light bulb supply, thus ending the battle of the light bulb!
The latest rivalry between my eldest children has been over Kathryn wearing Lauren's clothes without her permission. After battling about it for months, a battle I chose to stay out of since I had four more kids to worry about, Lauren decided to create a contract of sorts. She had Kathryn verbally state that she promised never again to take Lauren's clothing without prior permission, all the while Lauren was recording Kathryn's official "statement".
Now don't think that the sibling rivalry in our home is limited to only our oldest girls. Oh no … our middle twins are a 11-year-old boy/girl set named Erin and Brandon. Although these two seem to play together the best, they also are fiercely competitive! Neither of them can have a dish of ice cream or a plate of spaghetti placed before them that they won't argue about who has more. Brandon is determined to always be first … first out the door, first down the slide, first while racing bikes, first to get dressed in the morning, and first to finish eating. But, mind you, if the two of them are eating a bowl of chocolate pudding, and Erin was about to finish hers first, Brandon will point out to her that he still has more than her!
Last year, for their fifth grade year, I temporarily took Brandon out of the Catholic school that he'd always gone to and placed him into our neighborhood public school due to the excellent intensive reading program that he could benefit from. He'd recently been diagnosed as dyslexic, and the recommendation to have him attend this particular school was made by a reading tutor I trust. He's doing very well with his class, as is Erin with her class this year. Should Erin, however, mention subject that her class was about to cover, Brandon will jump in with, "Oh, we already learned THAT!"
You know, Brandon was the first born of their twin set, but I sometimes wonder if he was truly meant to be. I wouldn't be surprised at all to learn one day that, in fact, Erin was positioned to be born first, but Brandon just "cut in line" so he could be FIRST!
As for my last set of twins … they are three-year-old boys named Sean and Ben. Although Sean was born first, Ben has taken over the role of "leader", or perhaps I could describe Ben as the one "who simply gets his way" these days. If he wants something that Sean has, Sean doesn't stand a chance. Ben will throw his four extra pounds around and very forcefully remove the little car or ball from Sean's fingers. That's it. Sean had no defense but to scream at the top of his lungs out of protest for this terrible injustice. I'm sure the tide will change in only a matter of time.
Here are 10 tips to attempt to keep the peace!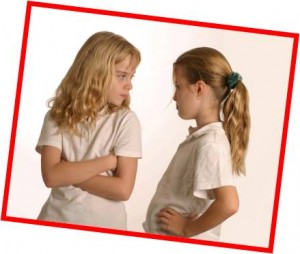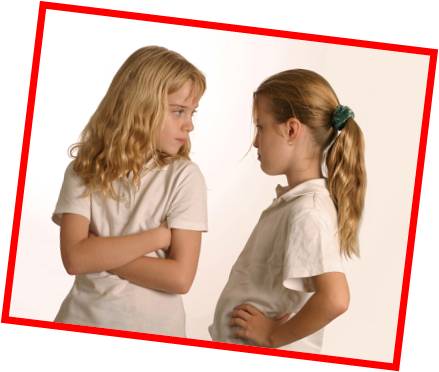 While doing my own research on some fair, effective strategies for dealing with sibling rivalry (between twins or any and all siblings), I really liked the following list from BetterHealthChannel.gov. Our first reaction to these ever-present  scuffles is to simply break up the fight and separate the children, but these tips seem to hit home:
Treat each child equally. Sibling rivalry is normal when two children are close in age or of the same gender. You may make it worse if you treat children differently or favor one more than the other.

Give each child a turn with your undivided attention.

Make the time to do things separately with each child so they have some one-on-one interaction with you.

Focus on each child's strengths.

Don't make comparisons between children as it will only lead to further competition.

Guide your children through difficult emotions.

Acknowledge and talk them through feelings of anger, jealousy and resentment.

Teach your children how to manage conflict without you.

Show them how to solve problems themselves or to ignore situations like teasing.

Praise your children when they play well together.

Your positive attention may encourage them to be nice to one another.

Be fair.

Make sure each child gets an even share of privileges and chores.

Reinforce positive behavior.

Set up a reward and punishment system, for example, fighting leads to time out but playing nicely earns a privilege such as staying up late.

Let the children sort out minor differences themselves.

Working out ways to compromise with each other will prepare them for healthy relationships in the future.

Be impartial.

Taking sides and solving their fights for them is not going to teach your children how to sort out future arguments.
Please also head over to Child Development Institute Info for another great resource for handling sibling rivaly including some common mistakes parents make, and … best of luck!  😉