One minute your precious twin toddlers are playing quietly …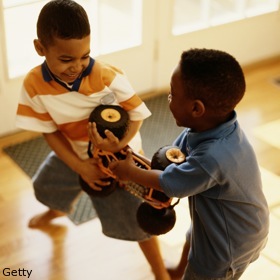 … so you take the opportunity to go into the kitchen and prepare them lunch. Just after spreading peanut butter onto one slice of bread, you suddenly hear a scream, and then another! In no time, they're both screaming, hitting, and punching each other … what happened?! You immediately notice that they are fighting over one particular toy truck. "Luckily," you think to yourself, "we have TWO of the same toy truck!" After giving each child his own truck, and placing some distance between the two children temporarily, you proceed back to the kitchen, where you've left the peanut butter and jelly sandwiches half-made.
Suddenly, the ear-piercing screams erupt again! You toss your banana-slicing knife down on to the counter top and race back into the family room, only to discover that one of the boys prefers to have BOTH trucks to himself! The greedy culprit runs and taunts his brother while your empty-handed child screams and chases his toy-hoarding twin as if he'd stolen one of his limbs!
As you rush over to break them up and spare blood loss, you realize that one had actually broken the skin of the other while biting his arm … good grief! After verbally correcting both children, hoping that your stern voice and serious facial expression has made an impression, and after washing and bandaging the wounded child's arm, you think to yourself, "What am I supposed to do? How am I supposed to handle this? Are my children abnormally, overly aggressive? How do I put an END to this behavior?
Does this sound like you?
And as we all know, this scenario can involve boys, girls and both, so no mom is immune!
Toddler aggression is very common in singleton siblings as well as twins.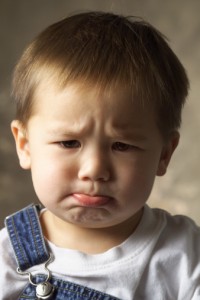 If you're experiencing this type of behavior, you are NOT alone. So, first know that. Secondly, it's only natural for any child (or person for that matter) to a react as a result of any type of provocation. Even newborns react by screaming and flailing their arms while experiencing unpleasant stimuli. As children age, however, they learn that hitting, punching, biting, scratching, for instance, are effective methods to defend or to assert their needs, wants or express an injustice of some sort, and are all quick releases of frustration that match their feelings. It's instinctive, reactive behavior to want to fight back as a method for getting the point across!
Professor's House, a home, family, and children information resources website posts an article on childhood aggression which states: In the early years, the hitting is pretty benign. They do it because they don't know exactly how to handle a problem. They hit because they have been hit or scratched or pushed by other kids along the way. They hit because they are angry. They hit because they truly don't realize that their actions can cause any sort of real pain or damage. In these years – the appropriate parental behavior is to try and teach kids how to take the high road. Children should learn to ask for mediation from adults rather than handle situations themselves.
The article goes on to say: (Another way) to keep siblings from hitting each other is to give them other options. Remember they are angry, mad, and frustrated. Help them find their words and help them find solutions to the problem that don't involve the strike of a hand. What works for each of your children will be different. Part of the reason not to hit for a kid has to be what will happen to them should they decide to do it anyways. However, your goal is to help your child deal with what they feel in the moment and give them ways to control it. When you notice that they do, they should be rewarded. What the real issue is is self-control. When you teach your children how to control themselves, they will be far better in the long run. This self-control may entail listening to your child throw a fit or buying them a punching bag to release their anger. They should be told time and time again that hitting can hurt people physically and emotionally until they understand this fact. Chances are your child doesn't want to inflict injury, but just wants to get their way.
When an argument arises between your children, please consider this …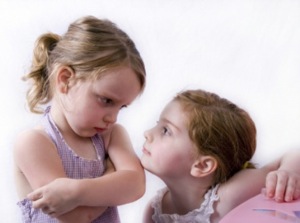 Your children must learn to work out their own disagreements. Sometimes the argument has begun over something very insignificant, and if it has occurred in the privacy of your own home, perhaps allow the children to see what solutions they can come up with on their own. I am certainly not saying that you should let them tear each other to pieces, in fact, once the fists start flying, it's time to intervene. But, if we as parents get involved in every single altercation that our kids get themselves into, we run the risk of making the situation a lot bigger than it actually is, and we don't allow our children to find their own way of working it out. There's nothing wrong with verbal expression … in fact, a good shouting match (without foul language and name-calling) can go a long way in your child's ability to stand up for himself, to defend herself, to assert himself, and to debate in a healthy, creative way even at the young age of 2 or 3!
So, the key isn't to stop the fighting, but rather to teach the correct and civil way to disagree.
When your children begin to argue, keep in mind these 3 tips:
1) Allow them to work out the problem themselves verbally. Shouting's okay unless the volume could wake a sleeping baby or two! Intervene when you think it's time to suggest a solution that the children could consider and debate.
2) Intervening and making too big of a deal out of a small issue (for instance, calling a family meeting together) could drag out an otherwise "no-big-deal" situation into a much bigger problem, and may only magnify the problem and cause more stress on everyone.
3) If or when physical aggression such as hitting, biting, scratching, etc., begins, immediately intervene and correct your children by taking the item being quarreled over away ("now no one gets it!"). Speak to each child impressing upon him or her that big kids don't try to hurt each other, … that there are much better ways to argue or to express anger, …and sit them each in time-out for a cooling off period.
For the complete article from Professor's House, go to: http://goo.gl/Hl5dn.
And for a lengthy, in depth mom-forum discussion about toddler twins and aggressive behavior, visit: http://goo.gl/A9ujn.