Congratulations! You're Expecting TWINS!
This news can either be elating or devastating to you as the receiving parent-to-be, but either way, happy or traumatized, this news triggers the reality that life will from now on be very different!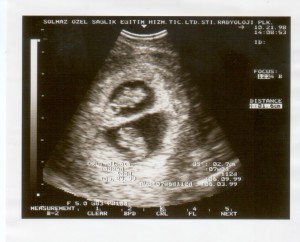 Chances are that if you're reading this article, you've recently seen an image resembling the one on the right show up on an ultrasound  machine that you were attached to (and no, this is not one of my scan photos). Oftentimes, this news comes as a complete shock because there is no family history (that you know of) of twins "running in the family" as they say … ('course they run all over my house). But lately, especially with Assisted Reproductive Technologies (ARTs) so prevalent today, more and more couples are half-expecting to learn that twins, even triplets or more, are ON THE WAY!
I'm not here, however, to discuss how this came to be. It's a FACT, and when your head stops spinning, the crying eases, and you can finally see straight again, you and your husband need to know what you may expect and need to prepare for, from here on in your pregnancy.
If you've already been pregnant and delivered a single baby (aka singleton), you'll note some similarities but also some differences.
What you may possibly experience while pregnant with twins
1. Prenatal Care: You'll be advised to seek the care of a Board Certified Obstetrician as opposed to a General Practitioner. You can also expect more visits with your OB/GYN for careful monitoring of your pregnancy progression, especially if a complication develops. You can also expect more screening tests (i.e., blood glucose levels, and ultrasounds).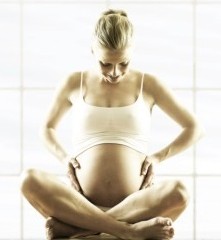 2. Pregnancy Nutrition: You'll be asked to increase your intake of iron and folic acid, along with your daily prenatal multivitamin. As with any pregnancy, you should eat foods rich in calcium, iron, and protein. It's also very important that you drink at least two quarts of water each day to prevent dehydration, which can quickly lead to preterm labor.
3. Morning Sickness: Pregnancy nausea is caused by the levels of the hormone human chorionic gonadotropin (HCG). It's a fact that this hormone is higher with a multiple pregnancies, so the probability of or higher degree of morning sickness will exist. The good news is that this usually subsides between weeks 12-14. (But when you're as sick as a dog at 7 weeks, you don't think week 12 will EVER arrive!)
4. Spotting: Light to moderate spotting can occur in a multiple pregnancy, often due to multiple uterine wall embryonic implantation (which can cause slight bleeding). Some cases are due to the early miscarriage of or more babies, which doesn't necessarily mean a miscarriage of every fetus, and the remaining baby(ies) can be carried to full-term. If bleeding, however, is accompanied by cramping and heavy bleeding with clots, it is no longer "spotting", and could indicate a more serious problem.
5. Weight Gain: Where it's recommended to woman carrying a single baby to gain between 20-30 lbs., you can expect to gain approximately 35-45 lbs. with a twin pregnancy (and more with triplets and beyond).
6. Gestational Diabetes and Preeclampsia: The risk for these conditions to develop is higher in a multiple pregnancy. These two conditions (high blood glucose with diabetes, and elevated blood pressure with preeclampsia) can be very dangerous for both mother and baby(ies) if not detected and treated. With careful medical monitoring, both conditions can be managed.
7. Twin to Twin Transfusion Syndrome (TTTS): This is a complication that occurs in primarily identical twins because there is a higher likelihood that the two babies will share a single (monochorionic) placenta. This syndrome occurs when, due to blood vessel malformation and distribution the babies receive an imbalance of nutrients, meaning one twin becomes severely over-nourished, while the other becomes severely under-nourished. Careful monitoring and treatment is required with this condition. Twins possessing his or her own individual placenta (i.e., fraternal twins), will not develop this condition.
8. Preterm Labor: Labor generally comes early for a mother carrying more than one baby naturally due to the fact that the uterus cannot stretch any further toward the end of the gestational period, perhaps arriving between 1-4 weeks before the due date. But also commonly occurring in about 50% of twin pregnancies is much earlier preterm labor that occurs because of the rate of uterine growth, causing uterine irritability which causes cramping and contractions. Higher order multiples have a 100% chance of going into preterm labor, and with preterm labor, often comes the recommendation for bed rest which could be partial or complete, depending upon the degree of symptoms. Careful monitoring and sometimes medication is required to manage this condition.
9. Delivery: Although it is very possible to deliver twins vaginally if the pregnancy is far enough along (I did, for my 2nd set), and the babies are positioned just right, most often than not, twins are delivered via C-Section. It's safer for both mother and babies if your gestation is 30 weeks or earlier, and probably much less risky from the standpoint of the delivering physician (and offers much lower medical liability).
For further descriptions and explanations, please visit: Pregnancy Help: What to Expect … Twins and Multiple Pregnancies, an article posted on Epigee ™ Women's Health, and Expecting Twins? 11 Things You Didn't Know About Twin Pregnancy, an article by Denise Mann, reviewed by Louise Change, MD for WebMD.com.
My personal twin pregnancy experiences …
… included excellent prenatal care for all three pregnancies; multiple screening ultrasounds (which I came to enjoy once the tech said that everything "looks great"); severe morning sickness for all three (requiring medication during twins 2 and 3), which always ended by week 14 (glorious week 14!); light spotting that lasted a couple of weeks during my last pregnancy, but was of no consequence; the miscarriage of one of my triplets during week 11 of my second pregnancy (but which was not accompanied by any bleeding), and I went to on to deliver my (now-called twins) at 35+ weeks; I gained about 30 lbs with pregnancies 1 and 3, but about 41 lbs with pregnancy 2, because I carried them longer.
I experienced no gestational diabetes nor preeclampsia with any of my pregnancies, nor (because all of my twins are fraternal) did I develop TTTS. I did, however, experience preterm labor with each pregnancy beginning between as early as 18 weeks with my first, and starting as late as 22 weeks with my last. Each led me to 100% bed rest, and although I followed my doctors' orders, I delivered twins 1 @ 31 weeks, twins 2 @ 35 weeks, and twins 3 @ 31 weeks (to the day as with twins 1!). As far as my deliveries were concerned, you may have heard of the term: V-BAC (standing for a Vaginal Birth After a prior C-section), well, I call my deliveries a "C-V-C": a C-section, then a vaginal birth, then a C-section. Although my vaginal delivery was no picnic, it was much more rewarding and satisfying an experience, with a much shorter recovery period than either C-section.
If you're reading this and expecting a set of twins or more, many congratulations to you, with wishes and prayers for a safe, healthy pregnancy, and safe healthy delivery for you!