"I can usually tell if
someone is stressed out or not just by looking at their belly size."
– Dr. Mehmet Oz in First for Women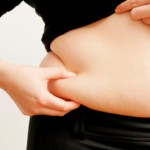 Boy, if that's true, than we're a stressed-out society! Is it my imagination or does it seem like more and more people, from children to seniors, seem to be harboring excessive amounts of belly fat these days? In an excerpt from a to-the-point article posted on the awareness-building and informative blog, Always sick and Tired (Help me get healthy), popular blog writer and chronic illness sufferer herself Always Sick Chick conveys to her readers after thorough research the following:
"There are obvious ways stress affects us negatively. It can cause irritability, tiredness, loss of energy, loss of appetite or an increased appetite, make us crave unhealthy things such as sugary foods with no nutritional value, etc…  All of these come together and cause weight gain, but it's the type of weight gain that it causes that makes it different from anything else.
When we are chronically stressed out, our bodies believe we are in peril.  We can thank evolution for this one, as the chronic stress of our ancestors was usually related to famine or extreme danger from a predator.  Such stress meant the body needed to store up fat for fuel to keep from starving or to give extra energy for the fight or flight against the predator.
Today, though, our stress is different.  We are not facing famine.  Quite the contrary, in fact.  Food is plentiful.  So whenever we are stressed, our bodies think we need food, even when we don't.  And as we eat that double cheeseburger, our body is storing every ounce of fat in it for the famine that it thinks is approaching, or the marathon it thinks we need to run to escape that saber tooth that no longer exists.  The body does this with the help of a naturally occurring steroid produced by the body called cortisol.
You've no doubt seen those commercials about cortisol and how it causes stubborn belly fat. They're selling you pills that don't work, but their information about what causes belly fat is true according to Dr. Oz.  The cortisol makes you hungry, even when you don't need food, because you're stressed out."
I found that the older I became, the harder it was for me to lose my pregnancy and post-pregnancy  weight, and I have had experience myself with stress-induced weight-gain and the inability to lose weight due to stress. It's so frustrating, and the more stressed I am about the weight, the harder it is to take off … a truly vicious cycle.
Doctors and fitness experts agree that plain and simply: take in less than you burn, and you'll lose weight; take in more than you burn and you'll gain. Exercise while eating correctly will increase your metabolism and burn fat and calories while it also builds stronger muscle mass and allow you to have a more efficient metabolism. With more muscle mass, you'll lose weight more quickly than if you only ate less or made better food choices because muscle burns calories, even while resting.
There's some food for thought for you!
If you enjoyed or related to this article, please post a comment. Also, please subscribe to my website by filling in the red box on the left of this screen!