Congratulations! You will be so happy that you signed up …

… and  I thank you again for taking the time to visit FranPitre.com! You will find the information you were looking for, but if you don't and would like a certain topic addressed, please let me know!
Because you signed up in the

RED BOX 

for fun, and supportive tips for enjoying your marriage while raising twins you have just received:
Your PDF copy of my e-booklet:
(click on book image)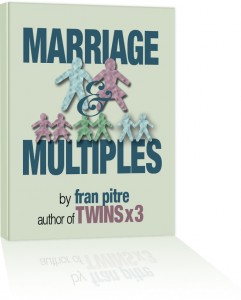 (You'll enjoy and appreciate the three combined articles which make up the booklet because they touch on important and humorous aspects of parenting a large family today!)
and … THIS SPECIAL OFFER!
Own your personal, autographed copy of my well-reviewed book, TWINS x 3
… for the REDUCED PRICE of  $19   (plus tax/shipping)
but only for YOU, and my other valued blog subscribers!  🙂
In TWINS x 3, I share in detail my personal experiences with:
long-term infertility

infertility diagnostic work-up

high-risk, multiple pregnancy

preterm labor

pregnancy bed rest

premature birth

preemies

breastfeeding twins

twin relationships as they grow

humor and challenges of parenting multiples

adjusting from a being a full-time professional, to becoming a stay-at-home work-from-home mom

pregnancy over 40

postpartum depression, and more …
Heart wrenching, humorous, yet incredibly inspiring, TWINS x 3 is an emotional roller coaster filled with love, pain, laughs, thanksgiving, and a healthy dose of faith and family which will cause every reader to laugh, cry and discover that they can relate to it all!
YES! Send me my personal, autographed copy of  TWINS x 3 !
TWINS x 3 Reader Testimonials!
"Fran Pitre gives a very real account of the struggles between faith and convention in conception and raising children. She brings a wonderfully warm humor to the reality of these sometimes difficult decisions. Every mother can identify with the sentiments, frustration and hilarity in the everyday situations we all face and that Fran describes so precisely. I very much enjoyed this book and was touched by the obvious love this family shares."
~ Karin B., Jackonville Beach, Florida

* * * * *
"As a mother of twins myself, I was really looking forward to reading Twins x3 to take an inside look at Fran's amazing life with three sets of twins. Once I started reading, I could not put the book down. I went to bed late far too many times because I just HAD to read one more chapter! The book is inspiring for all types of readers. Specifically, I think it would encourage the following types of readers. Those who have experienced challenges with infertility, parents of multiples, parents of preemies, nursing mothers, and anyone who wants to have a child.  I am blessed to know the author personally, as she taught me how to tandem nurse my twins shortly after I brought them home from the hospital. Fran is awe-inspiring and her faith and fortitude shine through the words on the pages of her book right into the minds and hearts of her readers. This is a must read!"  
~ P. Bissonnette "TwinMommy", Los Angeles, California

* * * * *
I laughed and I cried and then I laughed some more. Fran took us through every heart wrenching moment and brought us through it with humor and faith. I found myself not wanting to put the book down. I can't wait for a sequel to see what happens next!
Whether you have kids or not, you will enjoy this book. It tells the story of every woman's struggle to find her place in the world.  
~ J. Lola Artman, Fairfax, Virginia

I truly desire to help you with any challenges or questions you may have, and to provide you with guidance, information and resources that can ultimately give you a happy, fulfilled, balanced life as a woman and mother.

Please follow me on Twitter, and LIKE me on Facebook! (click on the links to the left of this page) … thank you!

I'm so blessed to help my family prosper … do you want to, too? CLICK here!