With a large family, there are many aspects of "keeping it together" that need to be maintained on a daily, weekly and monthly basis. While I no longer insist that the entire house is in complete order as I once did before I had children, it is important to me to keep on top of the daily tasks and finances in order to keep our home and lives running as smoothly and as organized as possible! I've been asked on occasion if it's possible to maintain an organized home with lots of kids. Honestly, some days don't run as smoothly as I'd like, but for the most part, we all pitch in so that we all benefit from our team efforts.
7 Suggestions for Maintaining Controlled Chaos (well, most of the time):
1– Stay on top of daily chores: Keeping on top of the never-ending laundry, the ongoing kitchen tasks with meal prep and clean up, keeping the pantry and refrigerator stocked with the meals for the week ingredients as well as basic staples, paying the bills and keeping control of the household budget simply are musts! But do I do it all on my own? Of course not!
2– Delegate: In our home, our four older kids each have a list of jobs to do around the house that are clearly posted in the kitchen for all to read and refer to (which, of course, they so appreciate being reminded about). Because two kids are 16 and two kids are now 12, each are required to take turns with dinner dishes and folding two large loads of laundry on alternating days in addition to their homework. Our 16-year-old daughters are to keep their shared bathroom clean (not that they always do the perfect job at it) and to help take care of their little brothers for me while I run errands. All are expected to keep their rooms in order as well as the upstairs loft which they all share to play games, computer work, homework and TV-watching.
3– Divide up tasks over several days: I try not to feel like it all has to be done everyday. I'll spread my tasks out over a few days. For example, I'm content that the bathrooms get thorough cleanings on Mondays, vacuuming gets done on most Wednesdays, and dusting is saved for Thursdays, so that cleaning gets done once a week. The kitchen floor may not get completely mopped each day, but it requires sweeping and spot-washing several times a day.
4– Communicate/Post schedules: As for the children's after-school activities, as schedules seem to constantly change, we communicate daily as to who needs to be where and when. A large, erasable calendar is posted for all to see showing Brandon's baseball schedule, Erin's soccer schedule, and Kathryn's dance classes, Lauren's Thespian (drama) club, social activities and presently, Driver's-ed classes. My 8-seater van shuttles everyone all over the place, but I also have a carpool arrangement with another family. Right now, I have four kids in two different schools, and it's a real challenge making sure that everyone gets to and from their activities daily.
5– Be money-conscious: Many families with several children are tightly budgeted, which is no easy thing to do. While it can become a habit to place this or that on credit cards when there's more month than money, it's frighteningly simple for spending to get out of hand. Before you know it, you're in deep debt! Our motto is: if we don't have the cash for it, we don't buy it. I plan out the dinners for a week and stick to those ingredients so that I'm not tempted to buy lots of extras. I take advantage of sales, coupons and on occasion shop at second-hand stores for kids play clothing, etc. I believe that living this way is teaching our children to appreciate what we have and to respect the costs of daily life.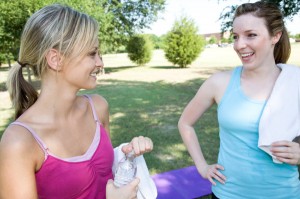 6– Take care of yourself: When the busy day full of home care and shuttling is over, find an outlet to relax. It's important not to be hard on yourself when things don't run as smoothly as you wish, so cut yourself some slack. You're doing the best you can, and that's what's important! Exercise! I actually exercise in the evenings, followed by a hot shower or relaxing bath. The stress relief from endorphin release during physical activity, followed by the hormone oxytocin that the body releases while being soothed in warm water is the perfect prescription for relaxation! Additional Stress Reducers: Some evenings I go out to meet a friend for coffee and dessert or a movie. I also love to go to movies all by myself, allowing myself to get immersed in a good love story or comedy. After having the chance to take a break, I'm a much happier wife and mom!  🙂
7– Go on a date with your husband! Get out once a week or so, just the two of you. Reconnecting often as a couple is VITAL to the longevity, renewal and healthiness of your marriage!
You know, people say to me all the time, "Fran, I don't know how you do it!" And often I'll answer, "Some days I do, and some days I don't!" And that's the truth … some days go as smoothly as a well-oiled machine, and other days seem to be fraught with a hundred little fires that need to be put out one by one, just like most families experience daily! So delegate the house work tasks, and accept help, take care of yourself, and above all, don't try to do it all on your own …
And here's a good question: What is our ultimate goal as moms?
Is it to raise our children to become self-sufficient, independent, life-skilled, confident, responsible adults?
YES!
And there's no better training for our kids than to entrust them with chores, responsibilities, and expect no less than their best efforts in return for our trust, and in the process, we provide them with our unconditional love, support and encouragement (with doses of correction and redirection when needed!).
 SO, in choosing to raise our kids this way …
We ARE SUPER MOMS after all!